Ukraine war: Johnson says if Putin were a woman he would not have invaded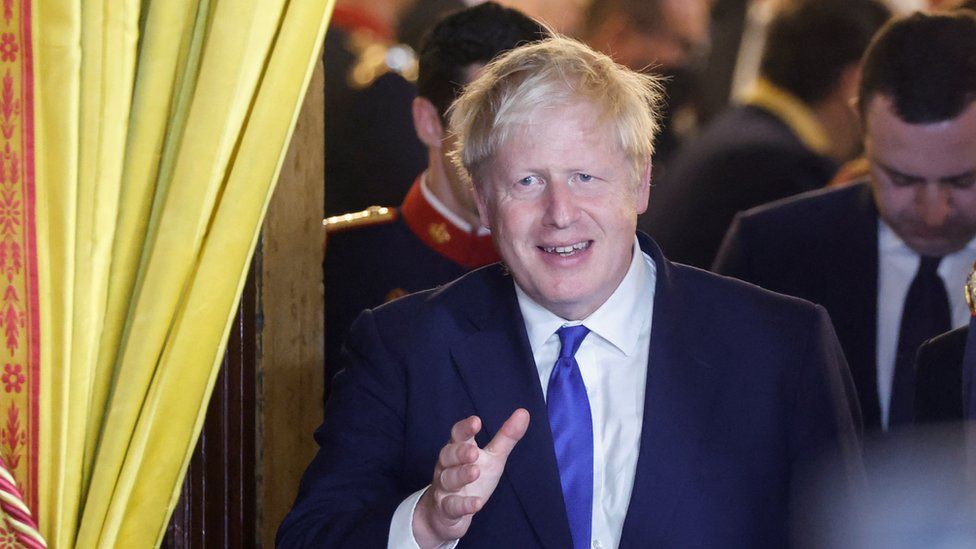 Russian President Vladimir Putin would not have invaded Ukraine if he were a woman, Boris Johnson has claimed.
The UK prime minister said the "crazy, macho" invasion was a "perfect example of toxic masculinity" and he called for "more women in positions of power".
But Downing Street said there was "not a deliberate policy" to publicly belittle Mr Putin.
Mr Johnson's comments come ahead of a Nato meeting where allies will discuss how to respond to future threats.
At the summit in Madrid, he is set to call on fellow members of the defensive alliance to ramp up defence spending.
The UK's defence spending is projected to reach 2.3% of GDP - a key measure of the annual income of a country - this year as a result of defence industry investment and £1.3bn in military support for Ukraine, the government said.
All Nato members have committed to spend 2% of their GDP on defence, but in 2021, the target had only been reached or exceeded by eight countries, including the US.
The spending target has been a source of tension within Nato in the past, with members pledging to work towards the 2% mark by 2024.
At Wednesday's Nato summit, Mr Johnson will say that "over the next 10 years the threats around us are only going to grow".
"The 2% was always meant to be a floor, not a ceiling, and allies must continue to step up in this time of crisis," he will add.
On Tuesday, UK Defence Secretary Ben Wallace urged Mr Johnson to increase spending on the UK's armed forces even further, in light of the threat posed by Russia.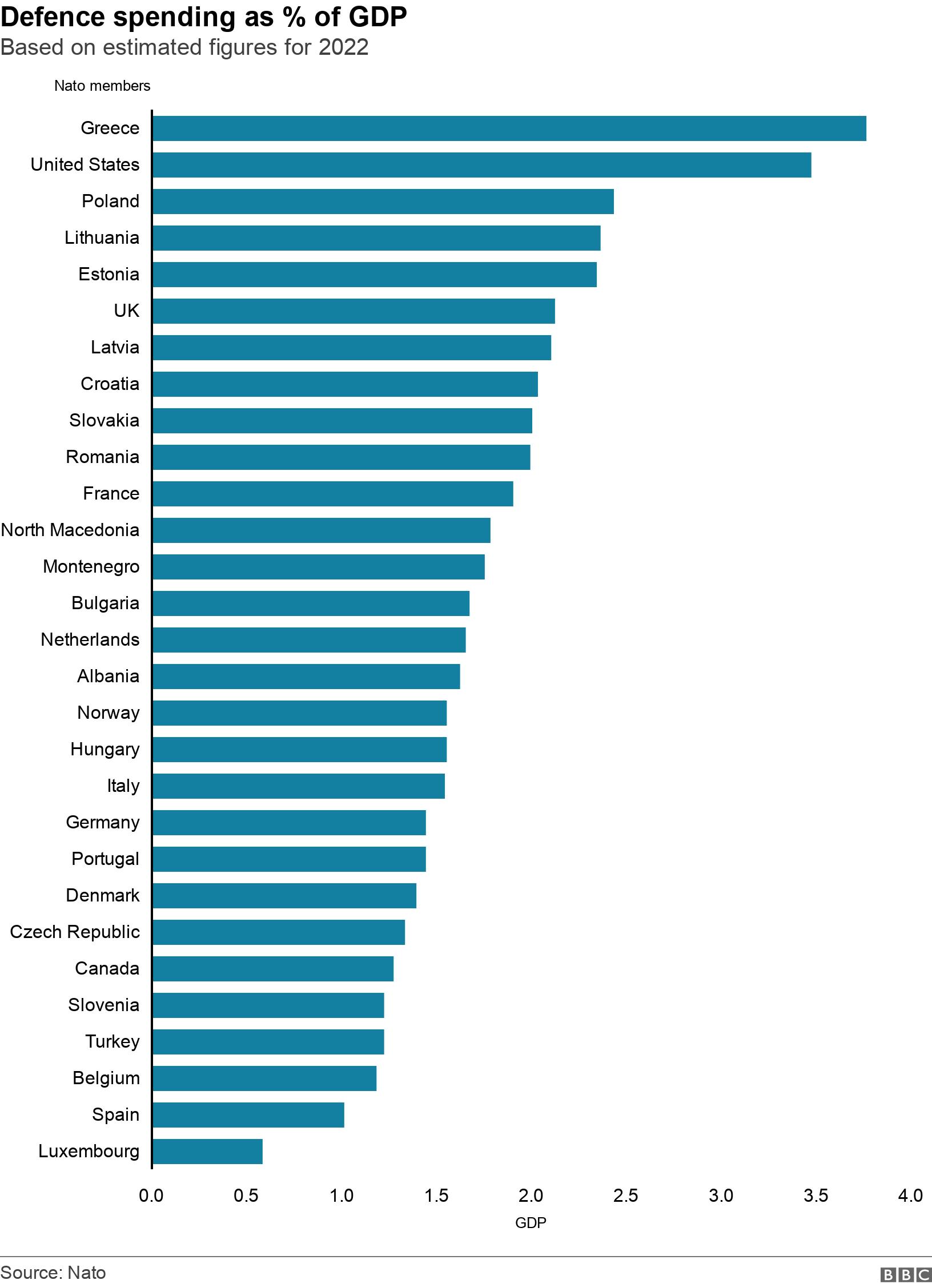 Mr Wallace told the BBC he was keen to have a "grown-up discussion" about how much the UK spends on defence and warned that the country could no longer bank on a "peace dividend".
He said this level of spending was justified, given the threat posed by Russia, which has demonstrated it "will take action against anyone or anybody".
Labour leader Sir Keir Starmer said the government had been cutting defence for 10 years, and the armed forces needed a "reboot in light of what's happened in Ukraine".
On gender equality and the importance of education, he said: "You need more women in positions of power."
"If Putin was a woman, which he obviously isn't, but if he were, I really don't think he would've embarked on a crazy, macho war of invasion and violence in the way that he has," Mr Johnson said.
"If you want a perfect example of toxic masculinity, it's what he's doing in Ukraine."
Asked about the remarks, the prime minister's official spokesman said that "there is not a deliberate policy", adding: "The British public would expect leaders to be robust with someone killing innocent civilians on a daily basis."
Mr Johnson's comments about Russia's president echo those he made during a discussion with G7 leaders at a meeting in Germany earlier this week.
In his interview with ZDF, Mr Johnson also said that while G7 leaders "desperately" wanted an end to the war in Ukraine, there was "no deal available" currently.
But he also described the summit as "incredible" as leaders, "got closer and closer" to an agreement.
Mr Johnson said the West must support Ukraine's military strategy, in order to get President Volodymr Zelensky "in the best possible position" in negotiations with Russia "when talks eventually come".
Mr Johnson said Mr Putin had been "proved completely wrong" in his hopes to reduce Nato dominance as the two countries moved closer to joining the defence alliance.
Arriving at the summit, the PM said: "The first lesson is that if Vladimir Putin was hoping he would be getting less Nato on his western front as a result of his unprovoked, illegal invasion of Ukraine, he's been proved completely wrong - he's getting more Nato."