Iran's Revolutionary Guards set to be labelled as terrorist group by UK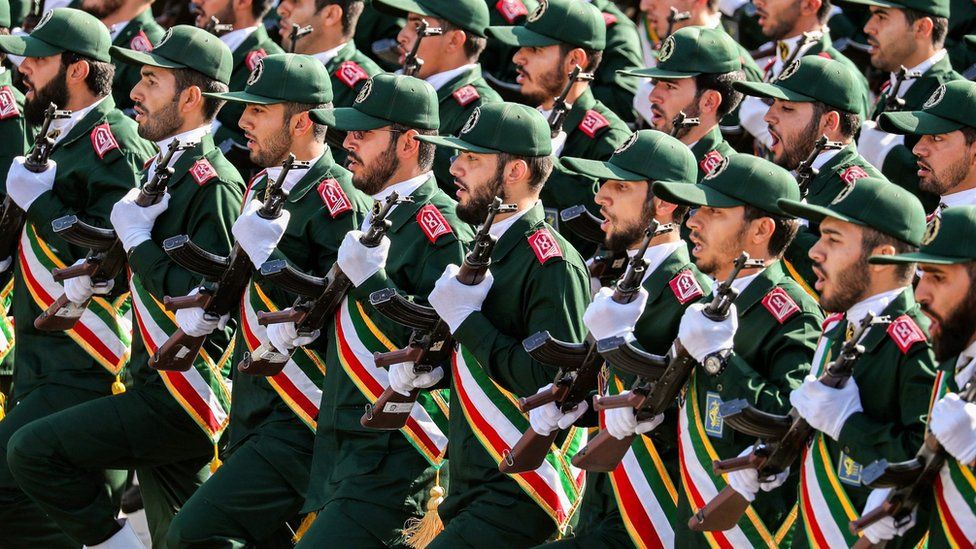 The UK is preparing to formally declare that Iran's Islamic Revolution Guard Corps (IRGC) is a terrorist organisation.
The legal change would mean it becomes a criminal offence in the UK to belong to the group or support its activities.
Whitehall sources said no announcement was imminent and many details remained to be sorted out.
But they said it was "broadly correct" to say the government intended to proscribe the IRGC.
And it would mark a further hardening of the UK's position towards Iran after intelligence agencies said the country posed a direct threat, citing 10 plots against British or UK-based individuals over the last year.
There were reports last November of an Iranian hit squad targeting British-Iranian journalists in London.
The IRGC last week arrested seven people with links to the UK in relation to anti-government protests that have been sweeping through Iran in recent months.
Proscribing an organisation is a formal legal process carried out under the Terrorism Act 2000.
The government has to assess not just the scale of a group's terrorist activities but also the specific threat it poses to the UK and British nationals overseas. It would make it an offence not just to belong to the organisation but also express support for its aims, meet its members or even display its flag or logo in public.
The IRGC was set up over 40 years ago to defend Iran's Islamic revolution and is now one of the most powerful paramilitary organisations in the Middle East. It has huge military, political and economic force, using its vast funds to support allied governments and militant groups across the region.
Foreign Secretary James Cleverly announced last month that sanctions had been imposed on the IRGC in its entirety.
But there has been growing parliamentary pressure for the government to go further. The Foreign Affairs Committee issued a report later in the month calling for the group to be proscribed as well.
During last summer's Conservative leadership contest - won by Liz Truss - Rishi Sunak said there was "a case for proscribing the IRGC". He has not commented on his views since becoming prime minister.
A government spokesman said: "Whilst the government keeps the list of proscribed organisations under review, we do not comment on whether a specific organisation is or is not being considered for proscription."