The 40-year-old British helicopter flying in Ukraine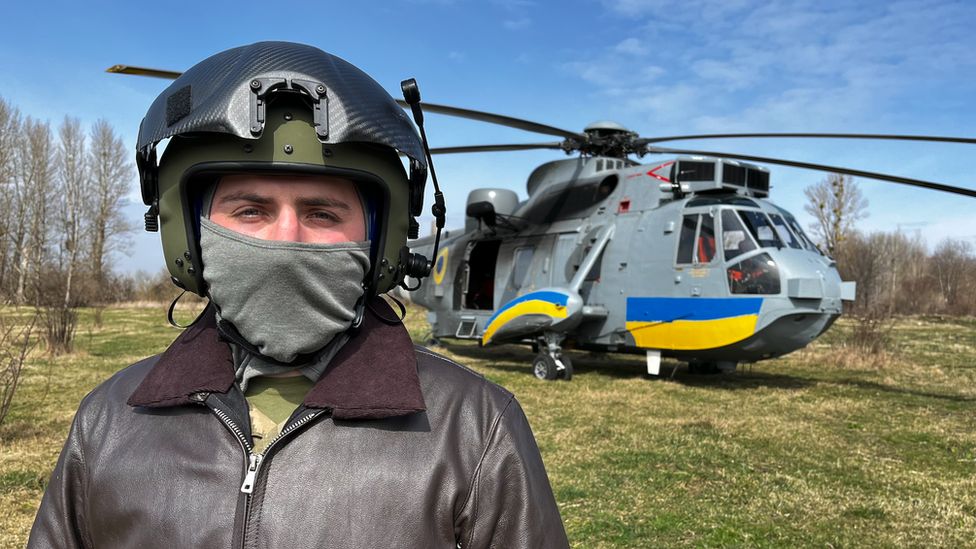 A military helicopter donated to Ukraine by the UK government was used in the Falklands conflict more than 40 years ago, the BBC has learned. Despite its age, the Ukrainian military says the aircraft will help in the war against Russia.
Flying low in the skies over southern Ukraine, the helicopter swoops and turns, following the contours of the ground. From the cockpit and open side door, the crew scan the horizon, alert for potential threats.
We are on board one of two Sea King helicopters Britain has given Ukraine - the first media to gain access to the aircraft since they were delivered in recent months. Inside, the mood is serious and purposeful, the menace of Russian missiles not far away.
Despite this, the four-man crew is enjoying showing off the new helicopter. They tell us how important it is for them on the battlefield, where it is used for rescuing casualties, moving troops, and carrying out reconnaissance.
But why is Britain giving Ukraine such old helicopters, some of which have been flying for more than four decades?
The government in Kyiv asked for modern fighter jets armed with long-range missiles to help in a much-anticipated new offensive against Russian forces. But the UK has not given any of its Typhoon fighter jets to Ukraine - it does not have enough to spare, and it would take too long to train Ukrainian pilots to use them. There are also broader fears that giving warplanes could escalate the conflict.
Instead, the UK chose to give them two helicopters that do not carry any weapons or fly particularly fast, and which are no longer used by the Royal Navy, which pensioned the Sea Kings off several years ago. One of them is so old it even saw service during the Falklands conflict, back in 1982, where it played an historic role.
The answer to the choice of aircraft can also be found partly here in Ukraine. The crew are clearly passionate about their new helicopter. Co-pilot, Vasil, says the Sea King was just what Ukraine's Navy needed - a practical, reliable aircraft that can do whatever is asked of it.
"I like this helicopter because it is incredibly good for flying," Vasil says. "It's one of the best for combat operations, whether transporting equipment or carrying out search and rescue. It is easy to fly even in difficult conditions."
The Sea Kings are being used to pick up casualties needing urgent medical help, move special forces into position, and fetch and carry equipment.
Vasil says one key task is searching for downed pilots, which can involve flying behind enemy lines. "Pilots have to eject," he says. "They need to be rescued. For this, we have to reach territory which is possibly not under Ukrainian control."
He also emphasises that the Sea Kings are of a similar age to several other helicopters used by Ukraine's armed forces. As such, he and other pilots are familiar with aircraft of that vintage, making their training easier.
"It is spacious, it has good load capacity and it is economical," Vasil adds.
Another answer to the question about the aircraft's age can be found, perhaps, at a base in southern England, where a third Sea King, which will be delivered to Ukraine in the coming weeks, is being prepared. We cannot say where the base is for security reasons, but we spoke to two Ukrainian engineers who have been there for seven months, training to repair and maintain the helicopter.
One engineer, Ihor, tells me that the Sea Kings are in fact mostly new, with very little of the original helicopter remaining.
"They are old," he says, "but they have gone through modernisation, and we need them very much. I believe this is just the start of our work together."
These Sea Kings have spent much of their lives carrying out search and rescue operations - for civilians as well as service personnel - and have been familiar sights over Britain's coasts. One of the two currently in Ukraine was flown by Ralph Wickes-Sneyd in the Falklands in 1982 - he commanded the squadron of which it was part. The retired naval pilot says the helicopter played an historic role, flying through a storm on 14 June 1982 to take the commander of British land forces - Gen Jeremy Moore - to Port Stanley so he could accept the Argentine surrender. No other aircraft could fly due to the bad weather, he says.
"It was quite an interesting operation," Mr Wickes-Sneyd explains. "The ceasefire hadn't been signed up to this stage, and so the aircraft was flying into Stanley competing not just with the weather, but also some still rather unfriendly Argentines."
The pilot also revealed that the Sea King that he flew - the one now in Ukraine - was also flown in the Falklands by Prince Andrew, then serving as a young naval pilot.
"He would have flown the aircraft from time to time," Mr Wickes-Sneyd says. "It was his first tour. So he did what everybody else did, which was sometimes pretty mundane, sometimes quite exciting."
These Sea Kings may be old, they may be few in number, and they may not be the fixed wing aircraft Kyiv wants to help turn the military balance. But the navy in Ukraine says it is happy to have them - and it wants more.
There are other Sea Kings in storage in the UK, and if the government decided to give them to Ukraine, the crew and engineers we spoke to said they would be more than welcome.
Pilot Vasil says that getting hold of a Sea King is like replacing your old car with a classic "foreign car".
"It is so practical. We would like to receive more helicopters like these," he says.
Back in England, engineer Ihor concedes new aircraft would perhaps be better, but adds: "It's better than nothing and it's only the beginning."