Sarah Ferguson: Duchess of York names reconstructed breast 'Derek'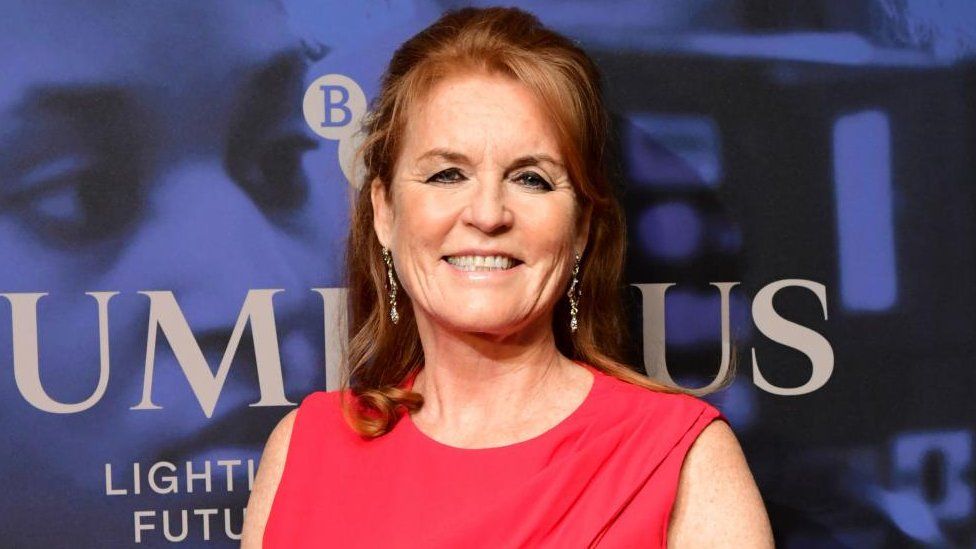 The Duchess of York has named her reconstructed breast "Derek" after her single mastectomy surgery to treat breast cancer.
Sarah, 63, had the operation in June after she was diagnosed with breast cancer following a routine mammogram screening.
She explained in her own podcast that personalising her new breast was a positive move to help her move forward.
Asked why she chose the name, she said: "I don't know. It just made me laugh."
The mum-of-two said she is still coming to terms with "new best friend" Derek.
"He is very important; he saved my life," she said.
Speaking on the latest episode from her podcast Tea Talks, with co-host Sarah Thomson, she discussed work-life balance, balancing parenthood and finding happiness.
"Now I have a friend, Derek, with me all the time who is protecting me with his shield of armour," she said.
Sarah Ferguson was married to Prince Andrew for 10 years before they divorced in 1996. They continue to share a home at Royal Lodge - a property owned by the Crown Estate at Windsor Great Park.
They have two daughters - Princess Beatrice, 34, and Princess Eugenie, 33 - and three grandchildren.
The duchess said she is feeling much better a few weeks on from surgery and will start travelling again soon.
She has urged other people to take advantage of cancer screening programmes.
Referring to her breast that underwent surgery, she said: "I think it's balancing the fact I've got a new model, a new wheel and new engine."
Joking about her "perky" friend on the left-hand side of her chest, she said: "Poor Eric on the right is feeling rather sad because he is not as perky."
She praised the work of the surgeons, nurses, doctors and everybody at King Edward VII hospital, a private clinic in central London that previously treated the late Queen Elizabeth II and other senior royals.
The podcast also covered a range of other positive subjects - such as leading by example, taking responsibility for one's actions, and setting boundaries.
The duchess also talked about the importance of hobbies, which she said were a form of escapism for her as a child. She said she loved collecting stamps when she was little.
The duchess revealed that as an adult she still has the collecting bug but nowadays it is fountain pens and watches that she favours.
On achieving balance, the duchess said: "its important to step back, see the big picture and not to sweat the small things."
Quoting American actor Sidney Poitier's documentary, she said: "Every day I promise to be a better person," emphasising it is important to be more kind, grateful and listen more.