Tobin police examine well in Portslade garden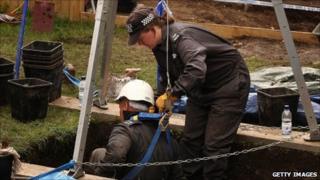 Police searching one of serial killer Peter Tobin's former homes in East Sussex have examined a 20ft (6m) well.
Specialist safety harnesses were brought to the garden in Station Road, Portslade, to lower officers into it.
The force said on Wednesday afternoon the disused Victorian shaft had been found empty.
They began digging at the site on Monday, extending their search to a cellar. A garden in Marine Parade, Brighton, is also being excavated.
Tobin, 63, is serving three life sentences for murdering Angelika Kluk, Vicky Hamilton and Dinah McNicol.
Nationwide search
It is not known if Tobin was aware of the existence of the well, which had been capped and covered with earth, when he lived at the property in the 1980s.
Sussex Police, who are also planning to search inside the Marine Parade property, have been using ground-penetrating radar to search for evidence and bodies.
Miss Hamilton's father, Michael, said many families would now be hoping for closure following the excavations.
The search is part of a nationwide investigation, dubbed Anagram, to see if Tobin is responsible for other murders.
Police have received 20 calls from the public with information about Tobin and his whereabouts in Brighton during the 1980s.
Up to 20 families have also been contacted by police about the latest search, with some of them appointed family liaison officers, although police have stressed this does not mean they are looking for 20 bodies.
Tobin was told last December he would die in jail after he was convicted of strangling 18-year-old Miss McNicol.
The former church handyman was already serving life terms for the murders of Miss Hamilton, 15, and Miss Kluk, 23.
In 2007, detectives discovered the remains of Miss Hamilton, from Bathgate, near Edinburgh, and Miss McNicol, from Tillingham in Essex, buried in the garden of a house in Margate, Kent, where Tobin moved to in March 1991.
Miss Hamilton's father said many families still did not know where their loved ones were.
"Memories will always come back and... maybe they'll come back to these families too," Michael Hamilton said.
He added that he was now good friends with Miss McNicol's father, and they often comforted each other.
"If we can, we'll comfort anybody else, if need be.
"It's a matter of just comforting each other and hoping and praying that they can find their loved ones and put them to rest," he said.