Essex motorcyclist killed in crash was 'caring angel'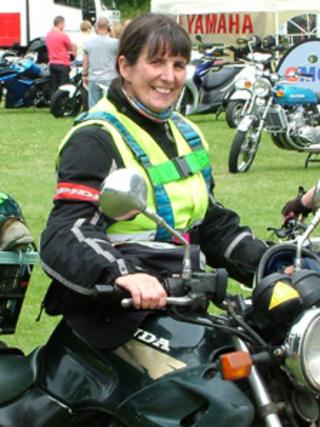 Tributes have been paid to a woman who was killed when her motorcycle was in collision with a van in Kent.
Jane Wilson, 46, of Holt Farm Way, Rochford, Essex, was pronounced dead at the scene of the crash on the A20 near West Malling on 4 July.
Her son Peter, 19, said she was "an angel with Honda wings".
Ms Wilson, who had three children and three grandchildren, had been riding in convoy with two other motorcyclists when the crash happened.
'No words'
Her mother Greta Estall said: "Jane was a very caring person. She took in all the waifs and strays.
"She was a psychiatric nurse caring for geriatric patients. She helped me enormously over the last eight months which have been extremely difficult and I don't know what I will do without her."
Ms Wilson's oldest son Christopher, 21, added: "There are no words that can do justice to her.
"All the pets we've got are rescued and she rescued so many people too. I want to carry on what she started."
She also leaves behind a daughter, Lucy, 23, and three grandchildren Chloe, four, Zach, three and Sophie, five months.
An inquest into her death was opened and adjourned on Wednesday.