Railway crimes danger to children in South East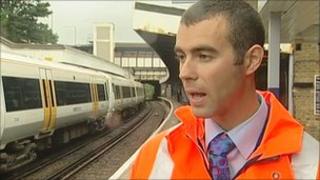 More than 800 crimes were committed by young people last year on the South East's railway lines, according to figures from Network Rail.
Incidents in Surrey, Sussex, Kent and Hampshire included missiles being thrown, laser pens being shone into the eyes of drivers and graffiti.
Network Rail said young people were putting their lives at risk by taking short cuts and playing chicken.
As summer holidays begin, it is urging children not to take unnecessary risks.
"The dangers of being on the railways if you are not supposed to be there are quite apparent," said Network Rail spokesman Gary Gaskarth.
"The trains can travel up to 100 mph.
"There is a third rail power system which is switched on 24 hours a day every day of the year.
"That can give you an electric shock that can kill you or seriously injure.
"Our message is very strong and very simple - do not go onto the railways if you are not supposed to be there."
In Kent, incidents between 1 April 2009 and 31 March 2010 included laser pens being shone into the eyes of train drivers in Faversham and Westgate-on-Sea and a pellet gun fired at a train at Birchington.
In Surrey, bricks were thrown at railway engineers while they were working at Lingfield, and wheelie bins were left on the racks in Horley and Redhill.
In Sussex, fireworks were thrown at trains in Wivelsfield and shopping trolleys were left on the tracks at Crawley, East Grinstead and Ifield.
Incidents in Hampshire included an air rifle being fired at trains at Hilsea and Winchester and grass being set on fire on embankments at Andover and Bitterne.
But Network Rail said there had been a 32% reduction in crimes by young people since it began its No Messin' campaign five years ago.
The campaign works with community groups and clubs to warn young people of the dangers of trespassing on the railways.