Trust aims to save historic River Wey barge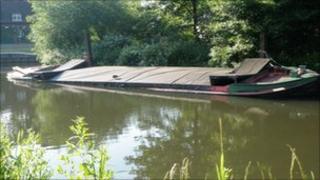 The National Trust has launched an appeal to raise £200,000 to save a rare historic barge once used to carry wheat from the London Docks to Surrey.
Perseverance IV, which has been stored at Dapdune Wharf near Guildford since the 1990s, belongs to the Museum of London which no longer wants it.
The museum and the National Trust have formed a partnership to try to save and restore the barge.
The vessel, built in 1935, transported goods along the River Wey Navigations.
It is one of only three such barges still in existence and would have carried cargo to Coxes Lock Mill in Weybridge.
The barge also traded to the West India, Royal Victoria and Millwall docks in London.
It ended its working life in 1982 laying cable in the Regent's Canal in north London.
Deteriorating condition
The barge is believed to have been rebuilt at Dapdune Wharf in 1964 to 66 and underwent two further extensive restoration programmes in 1986 to 87 and 1998.
The National Trust said Perseverance IV's deteriorating condition has put a time limit on the fundraising campaign.
It hopes to raise the £200,000 by 17 September, and take over ownership of the barge.
The trust has cared for the Wey Navigations since 1964.
School groups
Another £300,000 will be needed to restore fully Perseverance IV and get it back in working order and on the water.
Another of the original Wey barges, Reliance, is in dry dock at Dapdune Wharf.
"The experience of boarding our barge Reliance has brought history alive for our visitors, especially school groups," said Navigations manager John Gibson.
"That will be magnified if we manage to raise the funds to restore Perseverance and use her as a floating learning experience upon the waterway."