East Sussex sham marriage trial: The brides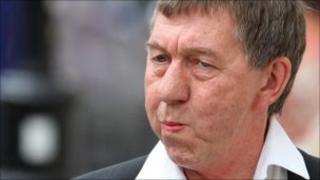 Many of the women cajoled into sham marriages at Rev Alex Brown's church were vulnerable and desperate for money.
Lithuanian divorcee Elvyra Ziogeviciene initially refused to marry failed asylum seeker Peter Ojo, but was tempted into doing so with £2,000.
She said she was handed the money in the car park outside the Church of St Peter and Paul in St Leonards on 15 July 2006.
The couple were married in a swift ceremony in front of a handful of people she barely knew.
The bride next saw her husband when he came to collect her wedding dress to take it back to the department store.
The court heard a month later, Mr Ojo, who had previously tried to enter Britain on a fake Belgian passport, applied for right of residence.
Burst into tears
Ms Ziogeviciene told the jury in the sham marriage trial at Lewes Crown Court she felt ashamed of what she had done.
"I didn't offer to marry," she said. "I got the money and I know it was wrong."
It may never be known how many were sham marriages but the court heard 360 weddings in four years involved eastern Europeans marrying African nationals.
The men took advantage of the women's European Economic Area status to gain permanent UK residency.
The court also heard the story of an Estonian woman, Inge Rajasta, who married Joseph Induka in April 2007.
Prosecutor David Walbank told the court: "It is clear that the purpose of that sham marriage was to enable Induka to break the UK's immigration laws.
Marry for cash
"Records show that within a month of marriage taking place he applied to the Home Office for a right of residence because of that marriage."
The court heard how one bride got changed into her wedding dress after arriving at the church. Another had to be comforted after bursting into tears at the altar.
The jury was told many of the women had answered adverts to come to Hastings to work.
They were then befriended by a man named Kaido Maesalu who claimed he was Estonian.
In reality, he was Vladymyr Buchak, a 33-year-old Ukrainian national, who organised jobs and places to live in shared accommodation.
Then he would play on the fact they still had little money and persuade them to marry for cash.
Solicitor Michael Adelasoye, 50, who specialised in immigration law, gave advice and Brown married them in his parish church.
All three men denied conspiring to facilitate illegal immigration.
During the trial, it emerged that men were also convinced to take part in sham marriages in exchange for cash.
The jury was told about a Lithuanian man, Egidijus Salasevicius, who married Nigerian national Chy Chy Ifeagwazi in October 2006.
Employment records shown to the court revealed the bride spent her wedding night working at a Kent nursing home.
Ms Ifegwazi got married because she had been sacked from her job after they discovered that her entry visa had expired, it has emerged.
Throughout his trial for conducting hundreds of fraudulent marriages at his church, Brown maintained he was "just doing his job" and denied knowing the marriages were false.
In reality, he knew he was involved in what Mr Walbank described as a "massive and systematic immigration fraud".
Mr Walbank said there was no doubt that Brown must have been fully aware that the majority of the weddings he was conducting at the church were shams.