New photographs of buried remains across Shropshire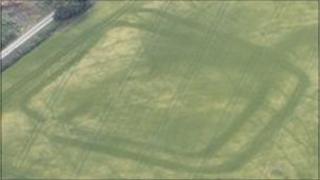 Aerial images have been taken of historical underground sites in Shropshire after the recent dry weather made them visible.
The parched ground, affecting growing crops, has revealed sites of buried archaeological remains, Shropshire Council said.
Ploughing has meant they are no longer visible on the surface.
The pictures are being taken as part of a three-year project with the council and English Heritage.
Rural archaeologist Andy Wigley said: "The weather has stressed crops generally and crops growing over remains like buried ditches grow taller and stay greener for longer as the soil retains the moisture, making them more obvious from above.
'Good season'
"The opposite occurs when crops are growing over a hard surface like a a buried road.
"The soil is drier and they ripen quicker and turn gold before others, again making them more obvious than others in such dry conditions.
"This has been a really good season for us seeing sites - some we've never seen before, others are known but more has been revealed about them."
Colin Richards, Historic Environment Manager at Shropshire Council, said: "To date, the project team have photographed a wide variety of sites, including Bronze Age burial monuments, Iron Age farms and Roman "marching" camps, some of which have not been seen before.
"The images demonstrate just how rich the county's heritage is and can help us to manage this resource by working constructively with farmers, land owners and developers."
The images have been taken since June.