Essex man jailed for car bonnet rape in Hemel Hempstead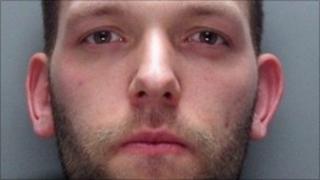 A man who raped a woman on the bonnet of a car in Hertfordshire has been jailed.
Paul Watts, 29, of Gant Court, Waltham Abbey, Essex, denied the attack which took place in London Road, Hemel Hempstead, on 7 June 2009.
But he was found guilty at St Albans Crown Court in May.
Watts has been sentenced to six years and three months in prison. He will also have his name added to the sex offenders register.
'Hazy memory'
The court was told the couple shared an ecstasy tablet before going on to the Ignite Night Club in Hemel Hempstead where they both drunk a large amount.
The woman's memory was "hazy" as they left the club and she suffered a blackout, the court heard.
Witnesses told the court the woman, in her 20s, was heard to shout: "Get off me" as Watts sexually assaulted her on the bonnet of a car in the early hours of the morning.
Soon after the rape the woman found two notes - one on her front door and the other on her car windscreen.
One of Watts's fingerprints was found on one of the notes.
Watts and his mother Victoria Watts, 57, of the same address as her son, were both previously found guilty of perverting the course of justice.
She was given a two-year conditional discharge.