Flood victims may get compensation from utility firm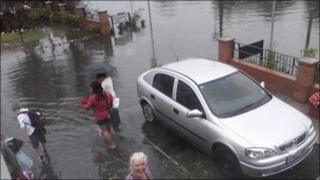 Residents in Lancashire and Merseyside whose homes were flooded after the recent heavy rain could receive compensation from United Utilities.
Both counties experienced torrential rain on Tuesday, flooding many properties and roads.
People whose homes flooded with sewer water will be eligible to a minimum of £150 in compensation.
The maximum it will pay is the amount householders have paid in waste water charges, a spokeswoman said.
Those whose gardens were flooded with sewer water may be entitled to £75.
The firm said "no sewer system could have coped" with the level of rainfall on Tuesday night.