Finance 'hole' for Yorkshire after Test match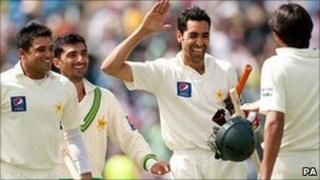 Yorkshire County Cricket Club is looking at making savings after poor ticket sales for the Test match between Pakistan and Australia.
Chief executive Stewart Regan said the club had missed out on about £750,000 after failing to attract the five-figures attendances it was hoping for.
The club has warned that poor ticket sales could lead to redundancies.
Pakistan completed their first Test win against Australia for 15 years at Headingley on Saturday.
Mr Regan said: "Clearly with a capacity of 18,000 we would have hoped to have had certainly into a five-figure attendance.
"We've ended up with 4,000 on the first two days, around about 6,000 on the third day. Financially it leaves a big hole in our cash flow.
"It is quite a hole that we're going to have to find elsewhere."
Mr Regan said when the club won the chance to host the match it expected it to be a "huge success".
He said: "It certainly hasn't turned out to be the case and we have got to now look at putting an action plan in place to deal with the fallout from that and move on."