Further talks on Northumbria and Durham police merger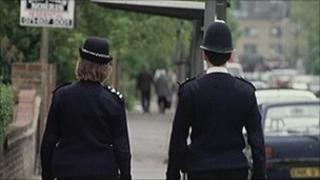 The Durham and Northumbria police authorities are to hold further talks about a possible merger.
There will also be a report into what operational benefits this might provide for frontline and protective services, as well as the financial impact.
The two authorities will then seek the views of their local communities.
The Durham force has issued redundancy warnings to all its civilian staff, including community support officers.
Peter Thompson, chairman of Durham Police Authority, said: "Durham Police Authority is determined to provide policing services its communities want, but to do this we may need to look at new ways of working which could make the two forces even more efficient and effective.
"Members agreed that a possible merger with Northumbria is one option, and from the initial assessment we think it is worth exploring this option further."
Mick Henry, chairman of Northumbria Police Authority, said: "As well as planning strategic police services in the short term, one of our key roles is to consider how policing in Northumbria can be developed and improved in the future.
"One option that might be of potential benefit, and provide even more efficient and effective policing services, is a merger with Durham."