Volunteers help hay meadows bloom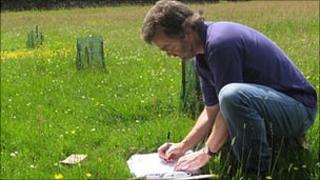 Green-fingered volunteers have helped a rare grassland habitat in the north of England to bloom again.
The North Pennines Area of Outstanding Natural Beauty (AONB) is home to many of the UK's last upland hay meadows.
Since 2007, Hay Time project staff have been encouraging people to gather seeds from declining plant species.
They were then grown for two years until robust enough to be planted out, and new colonies of great burnets and globeflowers have now been established.
In the AONB, which spans Cumbria, Northumberland, County Durham and Teesdale, the meadows provide an important home for wildlife, as they can contain up to 100 different plant species in each field.
Last autumn, 27 globeflower plants and 233 great burnet plants were planted out in meadows on three farms.
When the shrub guards were removed it was found that despite the harsh winter, more than 90% of the plants had survived.
Neil Diment, the AONB Partnership's Hay Time community officer, said: "This shows that though labour-intensive, growing on of hand-gathered seed can be an effective way of re-colonising meadows with these special plants."