'String of blunders' at North East hospitals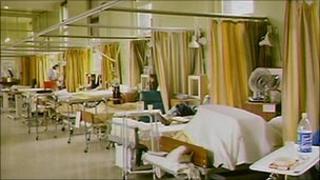 Documents obtained by the BBC reveal a string of blunders at hospitals across the north east of England, including the wrong body being sent to an undertaker.
Other cases revealed in what are known as Serious Untoward Incident (SUI) reports, include a patient who had the wrong finger operated on and delays in conducting an emergency CT scan because of "reluctance to call out on-call staff".
There was also a serious breach of patient privacy when video footage of a ward was placed on YouTube.
The documents, obtained under the Freedom of Information Act, are part of the reporting system when things go wrong at NHS Trusts.
These notifications help the NHS to identify where lessons can be learned and what action has been taken to avoid a repeat of an incident.
'Very unfortunate'
In 2009, around 280 such notifications were sent to the North East Strategic Health Authority by hospitals across the region.
At the South Tees Hospitals Trust, the wrong body was released to a funeral director when two deceased patients with the same surname were held in a mortuary.
The Trust said: "This was a very unfortunate and upsetting incident for everyone concerned.
"The mistake was noticed within an hour and dealt with immediately.
"We also contacted the family at the time, and at the end of the trust's own investigation, to let them know what action had been taken."
Failure to act on two chest X-ray results delayed diagnosis and treatment of a lung cancer patient at Darlington Memorial Hospital in March 2009.
At the same hospital, patients were filmed on a ward by an undisclosed person with a mobile phone in August 2008 and the video posted online.
The incident was described as "distressing to all concerned", though the police said they could not do anything as no criminal laws had been broken.
In August 2009, there was a complaint that a swab had been left inside a child following an operation at Darlington Memorial Hospital.
In a statement, the County Durham and Darlington NHS Foundation Trust said it took patient safety extremely seriously and encouraged reporting of incidents as good practice.
The statement added: "A serious untoward incident does not necessarily indicate a clinical error, but alerts us to an unexpected event that warrants thorough investigation."
At Sunderland Royal Hospital there has been a change in pre-operative procedures after a patient had the wrong finger operated on.
Another notification from the hospital describes how an emergency CT scan was delayed two hours for a patient suffering an intercerebral bleed "because of timing of the request and reluctance to call out on-call staff".
The patient eventually required emergency neurosurgery.
The City Hospitals Sunderland Trust said: "Safeguards have now been put in place to ensure that these unexpected events do not recur."
An extra CT scanner has since been purchased. Both these reports from the Trust were submitted in September 2009.
SUI notifications submitted by the North Tees and Hartlepool NHS Trust, which operates hospitals in Stockton and Hartlepool, included one from September 2009 stating that appropriate consent had not been taken for a surgical procedure.
Another from April of that year stated that there had been an unexpected death after the patient had been fed by a naso-gastric tube which was in the wrong place.
The Trust did not disclose further details, but said there had been "a considerable amount of learning and sharing as a result".
It said it had implemented a system for checking verbal consent with the patient before surgery begins and produced a poster for health professionals about the correct siting of tubes, which "has been adopted as good practice at national level".
The Newcastle Hospitals Trust submitted the highest number of notifications required when C.Difficile is mentioned on death certificates as being either the direct cause of death or as a contributory factor.
The Trust accounted for more than a third of all such SUI reports across the North East region in 2009.
"Prevention and control of infection remains a priority for the Trust," it said.
"We are one of the largest teaching hospitals in the UK."
It pointed out that a quarter of elderly people testing positive for C.Diff are thought to acquire it outside hospital and there was also a 30% false positive in testing for this infection.
'Near misses'
It also said the infection was the cause of death in only 28% of the 54 cases.
Across hospitals in the North East, there were around 140 such SUI notifications in 2009 - half of the total.
Sixteen SUI reports relating to potential and actual data breaches were also submitted by hospital trusts in the North East in 2009, ranging from loss of memory sticks to patient information being discovered in a staff car park on several occasions.
Half of these reports came from South Tees Hospitals Trust and were graded according to the NHS's system for such incidents as being a "serious potential breach and risk-assessed high".
The Trust said: "Safeguarding patients' confidential information is extremely important to us and we have carried out a full review of all our processes for transferring and storing confidential information.
"All of the serious untoward incidents relating to data security were 'near misses' but we still take these very seriously".