Police resume search at former Tobin house in Brighton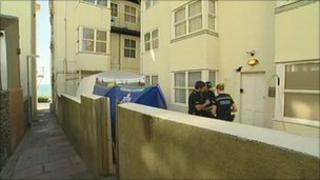 Police and forensic archaeologists have resumed their search of a Brighton property linked to serial killer Peter Tobin.
Tobin, 63, formerly worked as a handyman at the former Seafront Hotel in Marine Parade in the 1980s.
He is now serving three life sentences for murdering Angelika Kluk, Vicky Hamilton and Dinah McNicol.
Sussex Police said they halted their excavations at the property over the weekend to give residents some respite.
Last week a builder who carried out work to convert the former hotel into bedsit accommodation in 1992 met with officers to hand over plans and advise them of the building's original layout.
Serving life terms
Tobin also lived at 67 Station Road, Portslade, during the late 1980s.
On Tuesday police concluded their search of the Portslade home, saying they were fully satisfied that it was not linked to any criminal actions by Tobin.
Extensive searches of the garden, ground floor and basement were made during the nine-day operation.
The nationwide investigation, called Anagram, is to discover whether Tobin, of Johnstone, Renfrewshire, is responsible for other murders.
He was told in December 2009 he would never be freed from prison when he was sentenced for strangling 18-year-old Miss McNicol.
Tobin, originally from Renfrewshire, was already serving life terms for the murders of Miss Hamilton, 15, from near Redding, Falkirk, and 23-year-old Miss Kluk, a Polish student whom he killed in Glasgow in September 2006.
In 2007, detectives discovered the remains of Miss Hamilton at a house in Bathgate, West Lothian, and Miss McNicol, from Tillingham in Essex, buried in the garden of a house in Margate, Kent, to which Tobin had moved in March 1991.