Preston Guild scaled back after £1.4m funding loss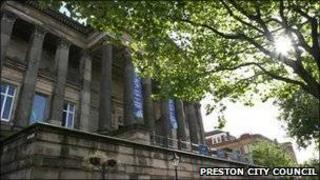 A year-long celebration planned for the Preston Guild 2012 may be scaled back after North West Development Agency (NWDA) funding was withdrawn.
The event has lost £1.4m as one of 101 projects hit by a £52m cut in the NWDA's budget from government.
Regenerate Pennine Lancashire and the Talbot Gateway in Blackpool are among other projects affected in Lancashire.
Stella Hall, Preston Guild's festival director, said they would now mainly focus on their September events.
Preston Guild is a festival held in the city every 20 years and 2012 will mark 833 years since King Henry initially granted a Guild Merchant - or market town status - to Preston.
The next festival will be the 23rd Guild held since the decree to hold a celebration every 20 years was made in 1542.
"We had agreed on a figure of £1.4m to help spread the Guild throughout 2012," said Mrs Hall.
"I think our focus now will have to be very strongly on the 10 days in September - 10 days to celebrate 10 years of being a city - and if we manage to raise more money then we can spread the joy a little bit further."
"There are one or two projects we might have to renegotiate or look at again. But we're still in the planning stage so it's early days on those ideas.
"We won't be knocked back by this. We'll continue to look for a whole range of partners and a whole range of sources [of funding].
"It is disappointing, of course its disappointing, but this is the world we're in and we all have to be resourceful."
Traditionally, Preston Guild has been dominated by the historical and civic traditions held during September.
But organisers had hoped to broaden the festival to include events throughout the year to mark the 10 year anniversary of Preston's city status.