Crete attack case five to continue extradition fight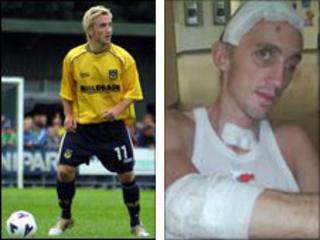 Five men facing extradition to Greece on charges of attacking a footballer are to take their fight to the European Court of Human Rights.
The decision comes after High Court judges refused the men permission to appeal to the Supreme Court.
The five, all in their early 20s and from Surrey and Sussex, deny stabbing ex-Oxford United player Robert Hughes, 28, from Croydon, south London.
The alleged attack happened outside a Crete nightclub in June 2008.
Mr Hughes was left in a coma and had to undergo three life-saving brain operations.
Human rights
Curtis Taylor, 20, Daniel Bell, 21, and Sean Branton, 20, all from Horley, Surrey; Benjamin Herdman, 20, from Worth, West Sussex, and George Hollands, 22, from Reigate, Surrey, are all accused of serious assault.
They were invited to return to Greece in June last year but refused, and were detained under European arrest warrants in December.
In February, City of Westminster Magistrates' Court ordered their extradition to face trial.
In a bid to block removal, their lawyers argued that poor conditions in a Greek jail would infringe their human rights.
The claim was rejected by judges at London's High Court last month.
Lawyers for the five then applied to the judges for permission to appeal to the Supreme Court.
But Sir Anthony May refused to certify that the case raised a point of law of general public importance, effectively blocking any further appeal to a domestic court.
Solicitor Karen Todner confirmed the men will appeal to the European Court.
Mr Hughes, who also played for Fulham youth team, Sutton United, Croydon Athletic, Bromley and has since played for Welling.