Family's fight to bring body home from Philippines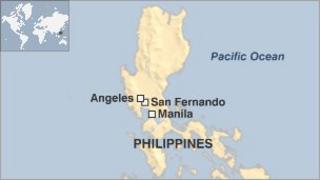 The family of a British man shot in the Philippines say they are struggling to raise the £8,000 needed to repatriate his body.
James Bolton, 50, originally from Lincoln, was among nine victims allegedly shot dead by a gunman.
Computer technician Mark Dizon, 28, is accused of killing nine people in three different robberies in Angeles city.
Mr Bolton's daughter, Becky Bolton, 21, from Stoke-on-Trent, said they were "miles away from getting him home".
'Nightmare situation'
She added: "We just want to bring him back so we can give him the funeral he deserves and say our goodbyes.
"Getting him home would give us a bit of hope from what has been a nightmare situation."
Mr Dizon is accused of killing Mr Bolton, six Filipinos, an American and a Canadian.
He was arrested on Tuesday as he talked to his father in a public square in northern San Fernando city.
Mr Bolton, who was killed in his house earlier this month, and his partner were among nine victims allegedly shot dead by the same gunman.
Mr Bolton's family started a Facebook campaign called Bring our dad home.
His daughter, who has just graduated from Staffordshire University, added: "He was a good man, a caring father, with three children and six grandkids.
"He was a loving father, grandfather, brother, uncle and friend. Everyone who knew him will miss him.
"We have tried every official avenue for help but to no avail. This has left us crying out for help.
"While we are grateful to the few who have already donated we are miles away from getting him home."
'Assistance provided'
The robberies began on 12 July, when Canadian Geoffrey Alan Bennun, 60, and his Filipino girlfriend were shot after a robber broke into their hotel room.
Four days later, Mr Bolton and his girlfriend were killed.
Last week, a gunman killed American Albert Mitchell, 70, along with his Filipino wife, Janet, 53, and three Filipino staff inside their Angeles home.
Police said the fleeing gunman was seen by a village guard and a motorcycle taxi driver, who later described him to investigators.
After hearing descriptions of the suspect, a family friend of the Mitchells looked up Mr Dizon's Facebook page - the Mitchells' daughter was one of his friends on the site.
He showed the Facebook profile photo to the witnesses, who identified him as the man they saw fleeing.
Mr Dizon has reportedly denied involvement in the killings.
A Foreign and Commonwealth Office spokesman said: "We can confirm the death of a British national in the Philippines. Consular assistance is being provided to the family."