Last-ditch bid to save County Durham care homes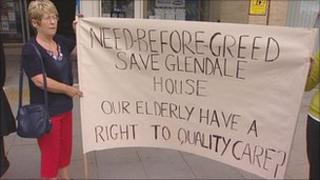 Protesters are making a last-ditch attempt to save seven County Durham care homes.
Last week, Durham County Council's cabinet approved plans to shut the homes in Lanchester, Bishop Auckland, Stanley, Blackhall, Annfield Plain, Newton Aycliffe and Shildon.
It said more elderly people were choosing to stay at home rather than opting for residential care.
Campaigners gathered outside the council meeting on Wednesday.
Relatives of the 110 residents affected by the plans have held a series of protests. The plans will also affect 230 staff.
They said many of the residents are too infirm to move.
Keep fighting
Ann Dryden, whose 92-year-old mother is in one of the homes, said they were protesting despite it seeming to be a done deal.
She said her aim was to keep it in the public eye and she was appealing to the councillors' compassion.
"It is just so unfair that it can't be allowed to just pass and no one make a fuss about it," she said.
The council said it had been forced to make tough decisions and argued there is sufficient private sector accommodation available to justify plans to close the care homes.