Travellers tricked by Gatwick fraudster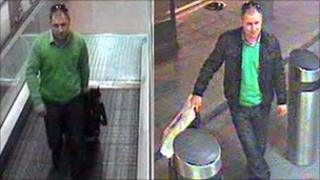 Detectives at Gatwick airport have named a man they want to question in connection with a series of confidence tricks against travellers.
Neil Rodgers, 41, believed to be from the Middlesbrough area, is wanted in connection with seven frauds at the West Sussex airport over 18 months.
The latest happened in May, when the conman posed as a businessman and obtained £100 from his victim.
Police in London, Surrey, Edinburgh and Thames Valley also want to find him.
Mr Rodgers also uses other names, including Sean Wells, Neil Roberts and Daniel Thomas.
The conman, who has been operating at airports and other transport hubs across the country, pretends he has run out of money and needs to get home.
Police said his favourite method is to ensure he is overheard apparently speaking on his mobile phone about not being able to get home because his credit cards have been cancelled.
He then engages the victim in conversation and get them to offer to lend him money.
The conman promises to repay it and provides a mobile number, which is never answered.
'Modest amounts'
"This man is a relentless confidence trickster, who provides a very plausible story and comes across as very genuine," said Det Con Steve Trott.
"But he doesn't care about honest people. Travellers can be very unsure and unwary in unfamiliar surroundings like airports and rail terminals.
"He typically seeks only relatively modest amounts, say £50-£100, and decent travellers instinctively want to help. But beware, things are not always as they seem."
Anyone who knows the whereabouts of Mr Rodgers or who believes they may be another of his victims is being asked to contact Sussex Police.