MPs back Hull disabled car clamping victim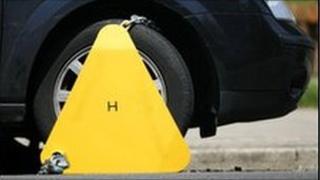 The government is being urged to crack down on wheelclampers after a disabled badge holder was charged £275 for parking on a petrol station forecourt.
The man's car was clamped at the garage in Princes Avenue, Hull in January.
He and his wife, who are from Manchester, waited for more than an hour in freezing weather for a towing truck which never arrived.
Two MPs have signed a Commons motion which "deplores" the actions of clamping company Parking Control Ltd.
Tony Lloyd, the Labour MP for Manchester Central, and Conservative former transport minister Peter Bottomley signed the motion calling for a compulsory licensing scheme to be introduced to regulate the industry.
Nerve damage
Mr Lloyd said the Blue badge holder told him he and his wife had only parked at the garage for "a few minutes" and returned to find their car clamped.
He said a sign warning that wheelclamping was in force was not prominently displayed.
The man, who did not wish to be named, was severely ill and suffered from nerve damage which meant he could not tolerate long periods in cold weather.
They said they were left to wait for more than an hour for a towing truck which did not arrive, but the £275 charge they paid included £150 for towing.
The MPs said Manchester-based Parking Control Ltd had repeatedly failed to respond to letters and telephone calls over several months since the incident in January.
Mr Lloyd said the company finally contacted him on Wednesday, the day after he raised the issue in parliament, to tell him they planned to reply to him.
'Extra towing fee'
He said the previous Labour government had promised to bring in tougher licensing regulations for wheelclamping firms, but those plans would not necessarily be pushed through by the new coalition.
The MPs' motion said the law should be changed to limit the size of penalties, regulate towing practice and put in place "an effective and fair appeals process".
It noted that the £275 charge included £150 for calling a tow truck that did not arrive.
And it expressed concern that the company "left a severely-ill man waiting for over an hour in freezing weather in order to elicit the extra towing fee".
The BBC has been unable to contact Parking Control Ltd.