German GP who killed patient in 'legal bid to gag sons'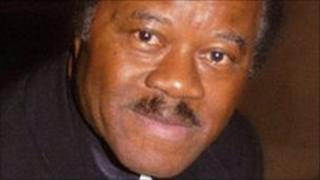 A German GP who killed a patient with an overdose in 2008 is taking legal action to try to gag the victim's sons from talking to the media, they say.
Dr Daniel Ubani injected David Gray, 70, of Manea, Cambs, with 10 times the recommended dosage of a painkiller.
Dr Ubani, 67, has been struck off the medical register in the UK, but is still working Germany.
Mr Gray's sons Stuart and Rory have been served with legal papers after going to Germany to confront Dr Ubani.
Dr Ubani's lawyer is seeking an injunction on the Grays in a German court which specifically targets the UK, where media coverage has been intense.
'Freedom of speech'
He is asking that the injunction, if obtained, would also be enforceable in the UK.
Stuart Gray, who is also a GP and lives in Kidderminster, said: "I find to difficult to comprehend why the German legal system would decide to hold a hearing looking at censoring me from putting the true facts regarding Ubani into the public domain.
"To be seriously considering banning me from discussion with the British media - in Britain - I treat as an attack on British freedom of speech by Germany."
Rory Gray said: "It is vulgar and shocking that anyone could perpetrate the crime that Ubani has done and then attempt to censor what we say to the media, both in Germany and Great Britain, to try and prevent them from reporting established facts.
"Freedom of speech is a fundamental right in any democratic society and I will continue to disseminate factual information as widely as possible in the interest of public safety."
No-one was available from Dr Ubani's solicitors on Wednesday.
In June this year Dr Ubani was struck off by the General Medical Council (GMC).
A GMC panel has ruled that Dr Ubani should be banned from practising in the UK.
Dr Ubani was given a suspended sentence in Germany for death by negligence but is still able to practise there. The GMC's power does not extend to other countries.
Dr Ubani, a specialist in cosmetic medicine based in Witten, admitted he had confused the morphine with another drug.