Detectives baffled by sham marriage vicar's motive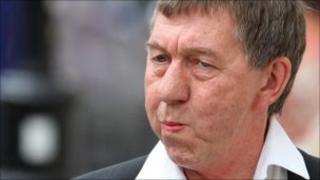 To his parishioners, he appeared to be a caring and well-respected priest.
But Reverend Alex Brown was not all he seemed.
For four years he took part in a sham marriage conspiracy, where Eastern Europeans were promised up to £3,000 to wed Africans, thereby giving them the chance to gain UK residency.
He presided over 383 marriages during that period - a staggering 30-fold increase on the 13 he had conducted over the previous four years.
Brown, 61, the vicar of St Peter and St Paul church in St Leonards, East Sussex, was found guilty on Thursday of helping illegal immigration.
Two other men were also convicted of the same offence.
But while his conviction at Lewes Crown Court will satisfy detectives, one baffling question remains unanswered - why did he do it?
Although, there was undoubtedly money changing hands as part of the plot, Brown appeared not to have enjoyed any additional income.
Indeed, he claimed he was a "man of the cloth" and "just doing his job".
Det Insp Andy Cummings, from the UK Border Agency, said: "With regards to his motivation, we can't show any financial gain.
"That's not to say that the group have not made any money during the course of their criminality.
"During the course of his interviews, he was given the opportunity to discuss whether he had been put under any pressure and again in court he could have had that opportunity."
Mr Cummings added: "Alex seems to be quite a significant member of the community and his role as the local vicar was significant.
"A lot of people took him into trust and confidence and there is a lot of people who felt let down by him with regards to the deception involved.
"Members of the parish council thought there had been only 20 weddings in a year and when we we disclosed it was 170 they were very upset by the deception that had gone on."
Whatever the vicar's motivation, a jury decided Brown knew full well the vast majority of the marriages were shams.
Gareth Redmond, the area director for the South East with the UK border agency, said Brown was "clearly not making the right checks".
"Any other vicar operating in good faith should be able to make checks and, with our help, recognise the signs that a marriage is not genuine," he said.
"The trial indicates that the vicar knew those marriages were not genuine and was involved in a criminal conspiracy."
Now the search begins for the people the agency believes were granted leave to remain after their sham marriages.
Around 150 right-of-residence applications resulting from marriages at Brown's church were put on hold when the conspiracy was uncovered.
Mr Redmond said: "There are a number of people who have been granted status after having been married and we will look at those cases and look at whether we need to revoke that status and identify anybody who needs to be removed from the UK.
"Living and working in the UK is a privilege and it's one we want to safeguard and we are cracking down on abuses such as this.
"We hope to find most of them, if not all of them but of course if you are in the country illegally sometimes people disappear and we have to work that bit harder to find them."