Search called off at former Tobin home in Brighton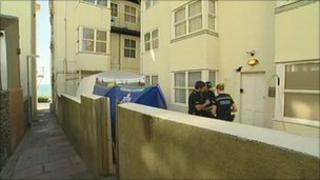 Police have halted their search of a Brighton property where serial killer Peter Tobin once lived after it revealed no evidence of any crimes.
Search teams of police officers and forensic archaeologists have spent 15 days excavating the garden and basement of 152-154 Marine Parade.
A nine-day search at 67 Station Road, Portslade, ended last week when no links to Tobin's crimes were found.
Tobin, 63, is serving three life sentences for murder.
He had also been questioned by police in Edinburgh within the last 24 hours in connection with serious sex crimes in Scotland.
The killer was told in December 2009 he would never be freed from prison when he was sentenced for strangling 18-year-old Dinah McNicol.
Tobin, originally from Renfrewshire, was already serving life terms for the murders of Vicky Hamilton, 15, and 23-year-old Angelika Kluk, a Polish student who he killed in Glasgow in September 2006.
'Thorough and meticulous'
The search of the Brighton properties, where Tobin lived in the late 1980s, was part of a nationwide investigation called Anagram to discover whether he was responsible for other murders.
The remains of Miss Hamilton, from Bathgate, near Edinburgh and Miss McNicol, from Tillingham in Essex, were found buried in the garden of a house in Margate, Kent.
Det Ch Insp Nick Sloan said Operation Anagram had identified enough intelligence to warrant searches in Brighton.
"I am completely satisfied that we have conducted thorough and meticulous searches and that both addresses are unconnected to any criminality linked to Peter Tobin," he said on Thursday.
Tobin worked as a handyman at the former Seafront Hotel in Marine Parade, which was later converted to flats.
The Station Road hairdressing salon was once a cafe, Ye Olde Tearoom, run by Tobin with Cathy Wilson, who later became his wife.
Mr Sloan said he believed more of Tobin's victims remained undiscovered but further searches would be made if credible information surfaced.
"I think it's highly likely that up and down the country there are victims of Peter Tobin who have yet to be discovered," he added.
"If it proves that some are in Sussex, then once we get the information that takes me back to that threshold of being confident, then we will be back again."
He also appealed to Tobin to reflect on his failure to help the police with information during the search.
"Peter Tobin is a convicted serial killer. At no point has he given any thought or reflected on how the families have agonised."
During the search, which cost about £30,000, police excavated two wells, one at each location, taking a day to remove earth and rubble from each one.
A Victorian soak-away was also discovered in the basement of Station Road along with pockets of space underneath the cellar at Marine Parade which had been boarded up.
Mr Sloan said ground-penetrating radar had been used to map out unusual fluctuations in the ground at the properties and tonnes of earth and concrete had been analysed, sifted and metal-detected.
Owners of the homes and properties have been told they will be returned to their original state now the searches have been concluded.