Sussex, Surrey and Hampshire police in helicopter share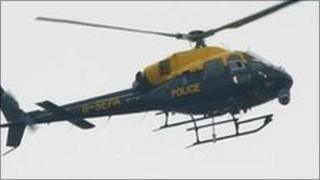 A plan for Sussex, Surrey and Hampshire Police to share two helicopters instead of each flying their own has been given final approval.
Flying two aircraft, based at RAF Odiham in Hampshire and Shoreham airport in West Sussex, could save up to £8m in five years for the forces.
Sussex Police Authority said it had voted in favour of the scheme at a meeting on Thursday.
Surrey and Hampshire Police Authorities approved it earlier this month.
Dr Laurie Bush, who chairs Sussex Police Authority, said: "We have agreed that collaborating in this way on air support represents the most sensible way to protect this important service in difficult times."
Damaged by vandals
No timescale for the proposed creation of a South East Air Support Unit has been decided, but the Surrey police helicopter has been operating from RAF Odiham since last June.
The move followed a review of security after the aircraft was put out of action twice in six months when vandals struck at its previous base at Fairoaks Airport, Chobham.
Sharing air support is part of a wider programme of collaboration between Hampshire, Surrey, Sussex and Thames Valley police.
Thames Valley is already part of the Chiltern Air Support Group.
Surrey Deputy Chief Constable Craig Denholm said in May that the Surrey police helicopter alone cost nearly £2m a year to keep in the air.
He said sharing air support was aimed making the best use of resources to keep as many officers on the beat as possible.