Fire crews damp down forest blaze on East Sussex border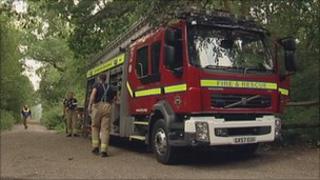 Firefighters are still at the scene of a forest fire in East Sussex.
Crews worked through the night to put out the fire at Broadwater Forest, Eridge which spread across 15 acres (six hectares) on Thursday.
At its height, 40 firefighters from East Sussex and Kent were at the scene of the blaze on the county border.
A spokeswoman said they worked in sweltering heat to beat back flames and were still at the scene damping down.
Fire breaks
Crews were called to the fire, which is thought to have been started accidentally, at 1100 BST.
It quickly spread through a plantation of conifers and it took three hours to stop it spreading any further.
Firefighters worked with the RSPB to create fire breaks with chainsaws and bulldozers to help reduce the density of the forest.
Foam was also used to cover areas of forest to act as a barrier to prevent the fire from spreading.
Firefighters will remain in the forest throughout Friday.