More children held over A20 fatal crash near Swanley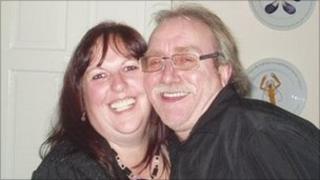 Three more children have been arrested on suspicion of manslaughter following the death of a man in a road crash.
Two boys, aged 12 and 15, and a girl aged 13, were released on bail while inquiries continue into the death of 47-year-old Michael Baker.
Mr Baker, from West Sussex, was a passenger in a recovery truck which hit a lorry on the A20 near the Swanley interchange in Kent.
Police are investigating reports of children throwing stones at traffic.
A 10-year-old boy was arrested and bailed over the death on Tuesday, while a boy of nine has also been "spoken to" by Kent Police.
Officers said a group of young people had been seen standing on the grass bank at the wooded side of the A20 before the crash happened at 1100 BST on 24 July.
As he passed the group, the lorry driver realised something had struck his windscreen and pulled over.
Mr Baker, of Littlehampton, suffered serious injuries when the truck hit the stationary lorry. He died later in hospital.