Kent Police return to scene of A20 death crash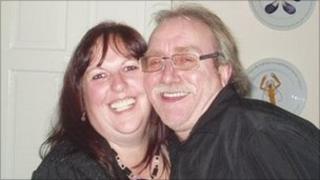 Police have returned to the scene of a fatal car crash on the A20 in the hope new witnesses will come forward.
Michael Baker, 47, from West Sussex, was a passenger in a recovery truck which hit a lorry near the Swanley interchange.
Kent Police believe a group of youths were throwing stones at passing traffic before the crash happened.
Three boys, aged 10, 12 and 15, and a 13-year-old girl have been arrested on suspicion of manslaughter.
'Our duty'
Detectives have set up a mobile police station in Laburnum Avenue on the St Mary's estate.
The group of young people were spotted on a roadside bank before the crash at 1100 BST on 24 July.
As he passed the group, the lorry driver realised something had struck his windscreen and pulled over.
Mr Baker, of Littlehampton, suffered serious injuries when the truck hit the stationary lorry. He died later in hospital.
Ch Insp Adrian Futers said: 'It is our duty to the loved ones of Michael Baker to find out how and why he died."