Plans to replace development agency submitted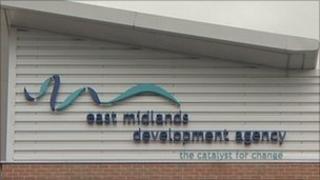 Initial plans to replace the soon-to-be-scrapped East Midlands Development Agency (EMDA) have been submitted to the government.
Nottingham and Derby city councils, and the two county authorities, hope to form a Local Economic Partnership.
Businesses and universities have also signed up to the alliance, which will promote economic growth.
The abolition of England's nine regional development agencies (RDAs) was announced in June.
The coalition government said the move was aimed at "improved co-ordination" of investment in the economy.
Letters were sent to local authorities and businesses inviting them to develop the new partnerships.
Organisations signed up to the East Midlands scheme so far include the Derbyshire and Nottinghamshire Chamber of Commerce, the Institute of Directors East Midlands, as well as Nottingham, Nottingham Trent and Derby universities.
'Joint approach'
If the proposals are approved, the new partnership will work to secure funding for regeneration projects and encourage economic development.
Derbyshire County Council said the group would also ensure close cross-border working with other areas like Leicestershire, Staffordshire, Sheffield and Manchester.
Kay Cutts, leader of Nottinghamshire County Council, said: "We have listened carefully to the Derbyshire/Nottinghamshire Chamber of Commerce and the Federation of Small Businesses. They firmly support a joint approach.
"This partnership will be led by the business community and supported by local authorities.
"We will work together to ensure the partnership is able to deliver strong and tangible economic growth for the two cities and counties, by winning new investment and encouraging businesses to prosper."
The government will announce whether the plans have been accepted in September.