Ex-soldier finishes barefoot walk to Canterbury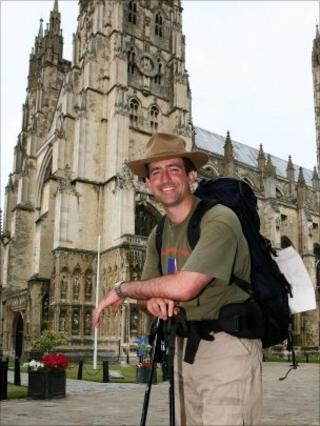 A former Army captain has completed a 130-mile (209km) charity barefoot walk.
James Milton followed the original pilgrims' route from Winchester to Canterbury cathedrals.
The 35-year-old Londoner has raised more than £4,000 for the charity Help for Heroes, which raises funds for wounded service personnel.
He said: "My feet are in tatters. I have walked continuously for the last 24 hours because I didn't think I would make it."
Mr Milton, who now works in corporate communications, served as an officer in the British Army between 1998 and 2007.
Between 2003 and 2006 he carried out three separate tours of Iraq, first as an intelligence officer and then an Arabic interpreter.
He added: "I used to be a soldier and I have built a good life since but there is a bunch of men and women who have not been so fortunate.
"It's my birthday today and I want to do something I could be proud of and remember for the rest of my life."