Crete attack accused from Sussex maintains innocence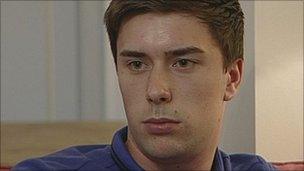 One of the five men accused of attacking a footballer outside a Crete nightclub has maintained his innocence ahead of his extradition to Greece.
The five, all from Surrey and Sussex, deny stabbing ex-Oxford United player Robert Hughes, 28, from south London.
Mr Hughes was left in a coma and had to undergo three life-saving brain operations following the 2008 attack.
Ben Herdman, from Worth, West Sussex, will be extradited on Thursday accused of being involved in the attack.
Mr Herdman, 20, said: "For Rob Hughes and his family and everything they've been through I have a great deal of sympathy and totally understand why they want justice.
"But right now what I'm going through is pretty horrendous. This is no justice, incarcerating innocent people in a Greek prison."
The men were detained under European arrest warrants in December after declining an offer to return voluntarily to Greece.
In February, the City of Westminster Magistrates' Court ordered the men's extradition to face trial.
Their attempts to overturn the extradition order through the UK's High Court and then the European Court of Human Rights failed.
Mr Herdman is booked on a flight on Thursday with co-defendant George Hollands, 22, from Reigate, Surrey.
Curtis Taylor and Sean Branton, both 20 and from Horley, were flown to Greece on Tuesday afternoon.
Daniel Bell, 20, also from Horley, was extradited on Wednesday.
Related Internet Links
The BBC is not responsible for the content of external sites.