Flooding follows heavy downpour in Sussex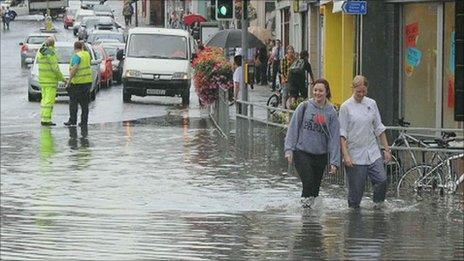 Flash floods have been reported in parts of East Sussex following heavy rainfall.
Fire and rescue services said roads and shops were affected in Uckfield after drains overflowed.
It is estimated that up to an inch (2.5cm) of rain fell an hour on Wednesday afternoon in parts of the South East.
The Environment Agency said rivers were not at risk of breaking their banks despite the downpour.
Last year the Environment Agency built a flood wall to protect properties in Uckfield, which has been hit by major floods nine times since the 1960s.
The agency said the town was prone to flooding because of its location, and extensive building on a floodplain.
In the October 2000 floods, about 18 homes and 115 businesses were flooded and lifeboats were called in to rescue people from the high street.
The flooding on Wednesday appeared to have been caused by problems with the town's drains.
Kieran Meehan, assistant manager of the Cock and Bull pub in Uckfield, said: "It's very, very frustrating, when you think about the amount of money it's going to cost us to get it fixed up, the amount of revenue we're going to lose, the amount of time and effort.
"I'm sure there's some way they can sort the problem out. They've spent all the money on the defences over there on the river but it's the drains that are the problem [today].
"It was a very fast downpour, it was over in a flash. It's just gutting."
Related Internet Links
The BBC is not responsible for the content of external sites.