Rise in Devon and Cornwall branch line train users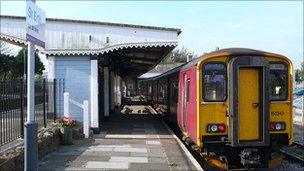 First Great Western (FGW) branch lines had a boom year in Devon and Cornwall, figures have shown.
The company said the number of passengers using branch line services rose by 19% in 2009-10.
In Cornwall, the St Erth to St Ives branch line carried 500,000 passengers for the first time.
There was a 12% increase on the Tarka line between Barnstaple and Exeter in Devon - with more than 40,000 extra passengers using the trains.
The largest rise in passengers was on the Par to Newquay branch line. Nearly 72,000 people used the service last year - a rise of 55%, making it the fastest growing branch line in England.
FGW said each branch line now had the best service in its history and it expects numbers to grow again this year.
Related Internet Links
The BBC is not responsible for the content of external sites.