Funeral of Raoul Moat victim Chris Brown is held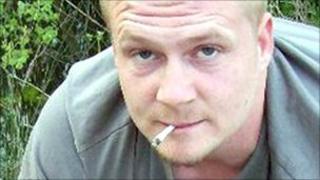 Hundreds of mourners have attended the funeral of the father murdered by gunman Raoul Moat.
Chris Brown, 29, was shot by the former nightclub doorman in the early hours of 3 July in Birtley, Gateshead.
His girlfriend Samantha Stobbart, 22, who was also injured in the attack, had lied to her former partner Moat, saying that she was dating a police officer.
Mr Brown's service was held at Slough Crematorium, where dozens of floral tributes were laid out in the grounds.
A card from his mother read: "Christopher, love you, will always be with me.
"So sorry [I] was not with you like I should have, love mum."
Ms Stobbart did not attend the funeral as Mr Brown's family had said they wanted her to stay away.
A floral tribute was laid by Northumbria Police, who had led the investigation, and two detectives from the force attended the service.
Several mourners stood outside the crematorium to watch the cortege.
Flowers spelling out Mr Brown's first name had been placed at the front of the hearse.
The karate instructor was shot by Moat, who also turned the gun on Ms Stobbart. She was injured but has since been released from hospital.
Moat went on to shoot police officer David Rathband, leaving the 42-year-old blinded.
The 37-year-old father-of-three eventually shot himself dead in Rothbury on 10 July following a six-hour stand-off with police.
Mr Brown's family has criticised Ms Stobbart for lying to Moat about her new boyfriend being a police officer.
They have also blamed police for not warning Mr Brown that his life could be in danger following Moat's release from prison.
Northumbria Police have so far arrested 21 people in connection with the Moat inquiry.
Two men have appeared at Newcastle Crown Court charged with conspiracy to murder and possessing a firearm with intent.