Sion Jenkins says compensation refusal 'not important'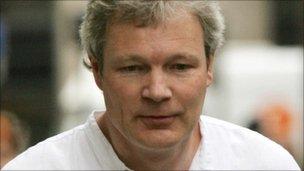 Sion Jenkins, who was jailed for his foster daughter's murder before being acquitted, has said his failure to get compensation is "not important".
Billie-Jo Jenkins, 14, was killed with a metal tent peg at her foster family's home in Hastings, East Sussex, in 1997.
Mr Jenkins had sought up to £500,000 damages for his six years in prison but his application was refused in 2008 by the Ministry of Justice.
He said he would not be appealing against the decision.
Mr Jenkins said: "The most important thing for me is that the investigation doesn't die and that Sussex Police continues to look for leads.
"I can think of a number of things that could be done and I have requested them."
He added: "There is only one thing that is important and that is to find the person who murdered Billie.
"I'm no different to any other parent. I thought of Billie, and continue to think of Billie, as my daughter."
In the 1998 trial, Mr Jenkins was convicted of murdering Billie-Jo at the family home in Hastings and jailed for life.
In 2005 he launched a successful appeal and was released pending a new trial.
He was retried, but the jury was unable to reach a verdict. Another trial, a year later, also ended with the jury hung.
Sussex Police said: "We will continue actively to pursue any viable lines of enquiry put to us, but none have emerged."
Related Internet Links
The BBC is not responsible for the content of external sites.