Smuggler jailed for cocaine in rum bottle death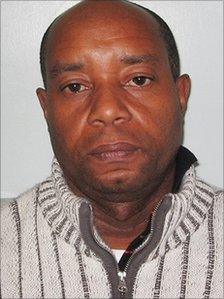 A drug smuggler has been jailed for 20 years for the manslaughter of a taxi driver who died after drinking pure liquid cocaine from a rum bottle.
Lascell Malcolm, 63, was given the bottle of Bounty Rum by a friend who had no idea of its lethal contents.
The bottle had been used to smuggle cocaine into Gatwick by Martin Newman, from Romford, Essex.
Newman was jailed for 20 years for manslaughter and 15 years, to run concurrently, for importing cocaine.
A jury at Croydon Crown Court took three hours to convict Newman after hearing that he tricked two other people into carrying the rum from St Lucia to the UK.
Antoinette Corlis and her friend Michael Lawrence, met Newman as they checked in for their flight.
The pair agreed to carry two bottles of the rum after Newman claimed he had exceeded his baggage allowance.
But on arrival at the West Sussex airport, Newman was held up by customs officials, and Mr Lawrence, who was due to catch a connecting flight to Switzerland, gave one of the bottles to Ms Corlis.
When Mr Malcolm, a taxi driver from Haringey, north London, refused to accept payment for the journey, Ms Corlis gave him the bottle as a gift.
The following day, Mr Malcolm died of a heart attack caused by cocaine poisoning.
He had drunk a shot of the rum with a pint of Guinness hours after receiving it on 25 May last year.
The court heard that Newman was the only person who knew there was 8.7oz (246g) of pure cocaine dissolved in the alcohol, and that just a teaspoon of the liquid could be fatal.
The reason for Mr Malcolm's death did not come to light until grieving relatives drank a toast after discovering the bottle at his home.
Oliver Glasgow, prosecuting, said Mr Malcolm's nephew, Charles Roach, and friend, Trevor Tugman, spat out the liquid but collapsed a short time later and were rushed into intensive care at Middlesex Hospital in London.
After the case, Tony Connell of the Crown Prosecution Service said the manslaughter case was brought on the basis that Newman's actions in the Caribbean made him responsible for Mr Malcolm's death in London.
"The defendant owed a duty of care to Mr Malcolm, a man he'd never met, and to everyone else who came into contact with the bottle," he said.
"In dissolving so much cocaine in the rum Mr Newman had grossly breached that duty of care and caused the tragic death of an innocent man."
Related Internet Links
The BBC is not responsible for the content of external sites.