Hosepipe ban saves 3 billion litres of water in a month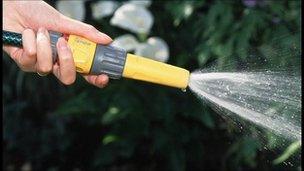 A hosepipe ban in the north-west of England has saved more than 3 billion litres (660 million gallons) of water, United Utilities has said.
But the company has warned the ban, introduced on 9 July because of low reservoir levels, must stay in place.
Restrictions cover parts of Cumbria, Lancashire, Greater Manchester, Merseyside and Cheshire.
Reservoir levels in Cumbria have returned to normal, but those in the Pennines are still low, the firm said.
A company spokesman said Haweswater and Thirlmere reservoirs in Cumbria were now 64% full, following recent heavy spells of rain.
Reservoirs in Pennines, where there has been less rainfall, are only about half full, compared to normal levels of 68%.
Dr Richard Blackwell, supply demand manager with United Utilities, said: "We are grateful to customers for their continuing efforts to save water.
"After the rain over the last few weeks it is easy to forget the first seven months of the year were the driest since our records began.
"All the rain we've had has made a difference and generally our reservoirs are in a much healthier state.
"To ease pressure on our Pennine sources and help them recover we are using our integrated pipe network to bring in more water from Cumbria.
"We will lift the ban as soon as we can, when the reservoirs have recovered to a point where we are sure their storage will meet the needs of the North West."
Those who flout the ban face a £1,000 fine.
Related Internet Links
The BBC is not responsible for the content of external sites.