Job cuts could 'choke' East Midlands economy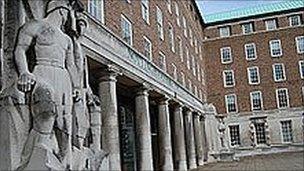 A union has warned against further public job cuts in the East Midlands after the region saw the biggest drop in the number of people in work.
Compared to last year, the employment rate for the region fell by 2.1% - the highest in England, against an average decline of 0.3%.
On Wednesday, Nottinghamshire County Council announced it planned to axe 3,000 jobs over the next three years.
The union, Unison, claimed further cuts could "choke economic recovery".
It fears that tens of thousands of public sector jobs could be lost across the East Midlands with at least £335m taken out of the regional economy.
Andy Belfield, Unison's head of local government for the East Midlands, said: "This government is on the wrong track. It needs to invest in jobs to keep the economy moving.
"Cutting spending now will reverse the recovery, could lead to a double dip recession, and will spell financial misery for thousands of families.
"Worryingly, our estimates for job losses could prove too low, with the impact on the private sector even worse. People must campaign against these cuts."
The leader of Nottinghamshire County Council, Kay Cutts, has defended the authority's redundancy proposals.
She said the council needs to meet extra costs in areas such as children's services and roads maintenance, while facing a reduction in government grants and increasing inflation.
The Office of National Statistics stressed that the drop in the East Midlands' employment rate takes into account those "not actively seeking work", such as people over 16 who have chosen to stay in education, or those who have retired or registered as disabled.
Related Internet Links
The BBC is not responsible for the content of external sites.