Rescue operation for fish in Leeds-Liverpool canal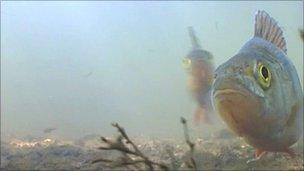 Hundreds of fish are being relocated from water-starved sections of the partially closed Leeds-Liverpool canal.
A 60-mile stretch of the canal between North Yorkshire and Greater Manchester closed to boats last week to save water because of drought conditions.
Up to 3,000 fish in water pools in Gargrave, North Yorkshire, are being moved to other parts of the waterway.
The operation came as British Waterways said it expected the canal to remain closed for the "foreseeable future".
A British Waterways spokeswoman said pike, roach, perch and chub were among the species being relocated.
She said the fish were given an electric shock which temporarily stunned them, so they could be moved into buckets and taken to deeper areas of the canal.
British Waterways operations director Vince Moran said it could be many weeks before the canal reopened.
"While there has been some rainfall in the region in the last few weeks, this has simply not been enough.
"We are currently suffering one of the worst droughts in a century and we need heavy and sustained rainfall over an extended period to get reservoir levels to a point where we can reopen the section."
Related Internet Links
The BBC is not responsible for the content of external sites.