Crete footballer attack case accused return to UK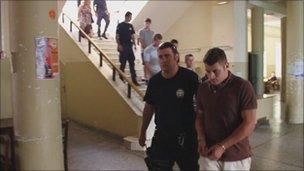 Five men accused of attacking a footballer outside a Crete nightclub have flown back to the UK.
The men, from Surrey and Sussex, were extradited to Greece last week and arrived at Gatwick Airport earlier.
All five deny stabbing ex-Oxford United player Robert Hughes, 28, of Croydon, in 2008.
They were allowed to leave Crete after being bailed by a court on the island and depositing sureties of between €3,000 (£2,480) and €12,000 (£9,921).
Mr Hughes was left in a coma and had to undergo three life-saving brain operations following an attack.
A trial is not expected to take place until at least 2011.
Ben Herdman, 20, from Worth, West Sussex, George Hollands, 22, from Reigate, Surrey, and Curtis Taylor, Daniel Bell and Sean Branton, all 20 and from Horley in Surrey, were extradited to Greece last week.
The men were detained under European arrest warrants in December after declining an offer to return voluntarily to Greece.
Related Internet Links
The BBC is not responsible for the content of external sites.