Holiday vow after Sun4U firm's collapse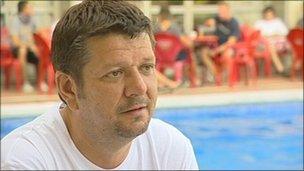 Some holidaymakers affected by the collapse of travel firm Sun4U say they intend to stay in the UK in the future.
The collapse of the Birmingham-based company has left about 1,200 customers stuck abroad, most of them in Spain.
Nigel Barnes, from Scunthorpe, Lincolnshire, said his wife "doesn't want to come away again".
Administrators had said 90 jobs had gone. Sun4U has apologised and told customers to contact claim handlers for Abta - The Travel Association.
But Abta has said most pf the holidays had been booked by Sun4U with another non-Abta hotel or agent, so were not covered by Air Travel Operators' Licensing protection.
The association has said those bookings should be honoured regardless of whether the companies had received payment from Sun4U, but in the event they were not, customers should claim on their credit card or Visa debit where possible.
Abta has said that those with Atol-protected packages should be able to continue with their holidays as planned.
Speaking in the Costa Brava, Mr Barnes added his wife was saying that from now on they were going to "Skegness, Scarborough, Mablethorpe, wherever".
Another holidaymaker, Jimmy Henderson, from Barnsley, said he has "definitely lost faith in travel firms".
His wife, Diane, said: "Next time we book we'll definitely not be using anything off internet.. unless it's a big, big company."
Sun4U has said it had suffered significant losses due to the volcanic ash and the failure of tour operator Goldtrail, which had been one of its major tour operators.
Related Internet Links
The BBC is not responsible for the content of external sites.