High-speed rail link compensation fund of £50m set up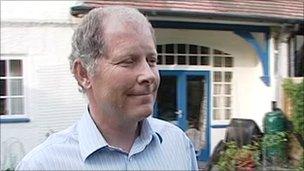 A £50m compensation fund has been set up by the government for homeowners and firms affected by the planned London to Birmingham high-speed rail link.
The new route between the cities - with a future extension - was announced by the former government in March.
Some residents in in Northamptonshire, Warwickshire, Staffordshire and Buckinghamshire are against the scheme.
The coalition government has now confirmed the introduction of the Exceptional Hardship Scheme.
Residents and businesses "severely" affected by the proposed route can start to apply for compensation from Friday, the Department for Transport (DfT) said.
The former Labour government started a consultation about the fund which ceased in June, the DfT said.
Applicants must be able to prove they have a genuine need to move and are "on or in the vicinity" of the route.
Residents in the various areas affected by the plans have now united under the name HS2 Action Alliance.
Jerry Marshall, of the Burton Green HS2 Action Group, near Kenilworth in Warwickshire, said the terms of the compensation were "very restrictive" and some people were not covered.
"You have to live very close to the line and either get divorced or go to a new job or get very sick before you actually qualify," he said.
Homeowner Jeff Dyson said the planned route had been announced three months after he had put his house on the market in December.
The line could pass less than 200m (220 yards) from his home in Burton Green.
"We've had people to view the property but to date we've had no offers," he said.
"People say they very much like the property, but because of the news of the proposed line, they are not prepared to put an offer in because of the uncertainty involved in it."
But the coalition government has said it is committed to establishing of a high-speed rail network as part of its programme of measures to create a low carbon economy.
A DfT spokesman said the £50m figure was not a cap, just a current estimate.
Related Internet Links
The BBC is not responsible for the content of external sites.