Black widow spider found in truck in County Durham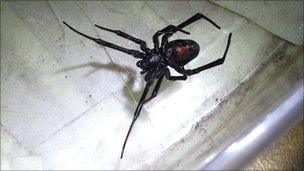 A poisonous black widow spider was found in a pick-up truck imported from the United States, police confirmed.
The spider was taken to a police station in Spennymoor, County Durham, in a plastic sandwich box after being spotted by the vehicle's owner.
A Durham Police wildlife officer confirmed the arachnid as one of the most poisonous spiders in the world.
The spider is now being sent to Bristol Zoo and the vehicle has been searched to ensure no others were on board.
A Durham Police spokeswoman said: "Our officer was satisfied, based on his knowledge of this type of spider and his examination of the vehicle, that there are no other black widow spiders in the county from this source.
"He has notified all of the authorities along the containers' transportation route to make them aware."
Black Widow spiders are among the most poisonous in the world, although their bites are rarely fatal because of the small amount of venom released.
Only the females are venomous and are called Black Widows because they eat their male partners after mating.
Related Internet Links
The BBC is not responsible for the content of external sites.