Reading Festival mobile phone theft warning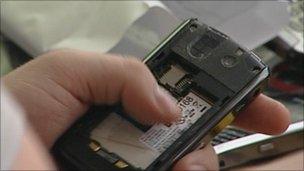 Police at this year's Reading Festival will be targeting criminal gangs stealing mobile phones for export.
Thames Valley officers believe criminals from Eastern Europe have been operating at big public events.
Last year, more than 200 were stolen at the festival - a rise of almost 20% on the previous year.
Phones can be blocked within 48 hours but they can still be used overseas where they can be sold for four times their UK value.
At this year's three-day festival, which starts on 27 August, undercover officers will be looking out for anyone involved in stealing mobile phones.
Reading police commander Supt Stuart Greenfield said: "It's quite a lucrative business.
"They go to countries like Algeria or Eastern Europe, where the phones can be unlocked easily, perhaps less prosperous countries, where a mobile phone is worth some money and is a status symbol."
In the Thames Valley last year, police investigated 10,644 stolen mobiles.
This year's festival will be headlined by Guns N' Roses, Arcade Fire and Blink-182 and there will also be an appearance from the re-formed Libertines.
Related Internet Links
The BBC is not responsible for the content of external sites.