East Midlands Airport has fall in passengers and profit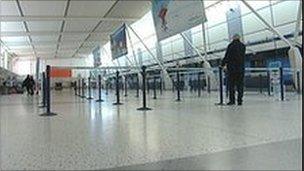 Passenger numbers and profits have fallen at East Midlands Airport because of the recession.
Figures show that nearly one million fewer passengers used the airport in the past year compared to the previous 12 months.
Passenger figures dropped from 5.4 million between March 2008 and March 2009 to only 4.5 million a year later.
But airport bosses said there were now signs of a recovery as the economy slowly picked up.
Airport revenue also dropped from £58.3m to £49.7m in the same time period, while profits fell from £14m to £9.7m, figures from the airport's parent company Manchester Airport Group showed.
Airport spokesman Barry Thompson said: "It's been a tough year - it's been a recession for every company in the region and the whole country.
"We have ridden the recession pretty well. I don't think anybody could have avoided it as it has been the worst in 60 years.
"We have been going through tough times at the airport as well."
The airport was also hit by flight cancellations caused by the Icelandic volcanic ash cloud in April and May. The ash cloud disruption cost the airport more than £1m.
Related Internet Links
The BBC is not responsible for the content of external sites.