Egg smuggler was 'wildlife criminal'
By Claire Marshall
BBC News Midlands correspondent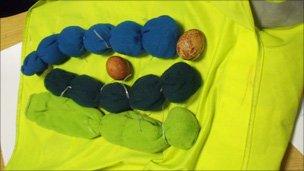 A man who was caught at Birmingham airport trying to smuggle peregrine falcon eggs out of the country has pleaded guilty at Warwick Crown Court.
Jeffrey Lendrum, 48, admitted taking 14 eggs of a wild bird from a nest in south Wales, possessing eggs of a wild bird and attempting to evade export restrictions.
It is the most serious case of its kind in many decades. The investigating officer told the BBC that Lendrum was "the highest level of wildlife criminal".
Of the 14 eggs that Lendrum stole, 11 went on to hatch and were successfully raised. Most of the birds have already been released into the wild in Scotland.
Lendrum was arrested at Birmingham Airport by counter-terrorism officers in May this year.
According to investigators, a cleaner noticed him acting suspiciously in the bathroom area of the Emirates executive lounge.
Lendrum spent a considerable time in one of the showers.
But when the cleaner entered the cubicle it was dry and there were some empty egg boxes in a corner.
The counter-terrorism officers searched Lendrum and found the falcon eggs in socks strapped to his abdomen with bandages.
After seizing the eggs, the officers kept them alive by nestling them on their office computers.
Andy McWilliam, from the National Wildlife Crime Unit, who led the investigation, said it was serious organised crime, well planned, with extremely high financial rewards.
"Lendrum is the highest level of wildlife criminal," he said.
"The eggs for him are a commodity. This is his profession, he knew exactly what he was doing."
Lendrum's car was found in the long-stay car park. Inside, there was an incubator and climbing equipment including ropes and carabiners.
Police also tracked down another incubator in a storage unit that Lendrum rented in Northamptonshire.
Mr McWilliam said that, to get through security, Lendrum kept the falcon eggs in his hand luggage, disguising them alongside boxes of quail eggs.
He then went into the showers and strapped the falcon eggs to his body to get them back up to the right temperature. He believes he would have then transferred them to an insulated bag when on the plane.
In his defence, Lendrum claimed he had a bad back and a physiotherapist had told him that strapping something fragile to his stomach would encourage the muscles to tense up.
Lendrum, who has dual Zimbabwean and Irish nationality, was booked on a flight to South Africa, with a 14-hour stop-over in Dubai.
According to all the evidence the eggs were stolen to order.
They were destined, via an intermediary, for an individual in Dubai, where falconry is the traditional sport.
The eggs of wild birds are highly sought after by powerful Sheikhs. Falcons of these bloodlines are believed to be faster and tougher than birds bred in captivity.
Mr McWilliam believes that Lendrum would have made up to £70,000 for delivering the consignment.
Guy Shorrock, a lead investigator with the Royal Society for the Protection of Birds (RSPB) said: 'This is one of the biggest wildlife cases in years.
"Lendrum is a major international courier there's no doubt about it at all."
Lendrum was first convicted of offences involving taking birds of prey from the wild more than two decades ago.
He was first convicted in Zimbabwe in 1984, then again in Canada in 2002.
The BBC has been given exclusive footage showing him dangling from a helicopter with a bag strapped around his waist, apparently trying to reach remote nest sites.
Falcon Mews, one of only two CITES-registered (Convention on International Trade in Endangered Species) breeders in the UK, successfully reared eight of the peregrine chicks from the eggs Lendrum stole.
One of the owners, Peter Gill, spoke ahead of a trip to Qatar to oversee a peregrine breeding programme there.
He said that, each year, he sold some 250 peregrine hybrids to Dubai.
While the UAE had banned importation of wild-taken falcons, Mr Gill said: "This ban is for the majority of people, but not for the elite."
There are an estimated 1,400 pairs of peregrine falcons in the UK. They are no longer endangered, but are given the highest level of protection.
The RSPB took BBC reporters to a secret site in the West Midlands, where Mr Shorrock pointed out a peregrine after hearing its shrieking sound.
Peregrine falcons can move at speeds of 150mph (241km/h), he said.
"Despite being the fastest bird in the world, it's unfortunately much too slow to escape human greed and prejudice.
"What the Lendrum case has shown is that there is still a demand for wild peregrines."
According to the RSPB, over the past 30 years there has been more than 130 people convicted of crimes of poisoning and trapping peregrines, which had been a problem at this site, right through to taking eggs and chicks for falconry.
Mr Shorrock said in 2008, the government removed some of the legal controls over people keeping peregrines in captivity - which had made it much easier for people to deal in illegally taken wild birds.
The RSPB has seen an increase in human interference at nest sites across the UK.
Mr Shorrock added: "The government has to look at the Lendrum case and re-instate the full protection for peregrines."
Related Internet Links
The BBC is not responsible for the content of external sites.