Lit-up Hadrian's Wall 'brought £3m boost to economy'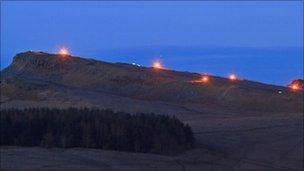 An event in which Hadrian's Wall was turned into an 84-mile long "line of light" bought a £3m boost to the local economy, organisers have said.
The historic landmark, between the North Sea and the Solway Coast, was illuminated at intervals by about 1,000 volunteers with gas-powered beacons.
Organisers said more than 50,000 people went along in March, more than double the number they expected.
Images of the event were also screened around the world.
Hadrian's Wall Heritage, which organised the event, commissioned a report into its impact.
It said many of the visitors had come from outside the region, classed as 10 miles either side of the wall, and their average spend had been £51.29, compared to £19.24 spent by those who live in the area.
Chief Executive Linda Tuttiett said: "The event saw a boost to the local economy of £3m, which is fantastic.
"However, it also brought Hadrian's Wall Country to the forefront of the minds of millions both here in the UK and abroad.
"The long-term legacy of the Illuminating Hadrian's Wall event will be important for this region and Hadrian's Wall Heritage will be working very hard to maximise this potential."
The report found there was a combined domestic and international audience of at least 855 million for the event.
A DVD has been produced which shows footage, including aerial shots, of the event and the preparation which went into it.
Related Internet Links
The BBC is not responsible for the content of external sites.