North West's hosepipe ban lifted after heavy rain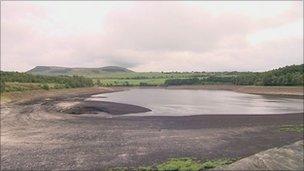 A hosepipe ban across the North West of England has been lifted after weeks of wet weather.
United Utilities imposed the ban on 9 July after the region's driest start to a year since records began in 1929.
Despite a month in which parts of the region were hit by torrential rain and flash floods, Pennine reservoir levels remain below average.
But the water firm is shifting supplies from North Wales and Cumbria allowing it to lift the restrictions.
The prolonged dry spell at the beginning of 2010 resulted in reservoirs falling to less than half their capacity in some cases.
It meant up to seven million homes in parts of Cumbria, Greater Manchester, Lancashire, Merseyside and Cheshire were asked to save water just as their gardens were getting hit with heavy downpours.
Following significant July and August rainfall and water conservation efforts, United Utilities announced the end of restrictions on Thursday.
Richard Blackwell, United Utilities' supply demand manager, thanked customers for their patience.
"Our key reservoirs in Cumbria and North Wales are now at the kind of levels we would expect for the time of year," he said.
"Pennine reservoir levels remain below normal, with some still at very low levels, but we are now able to compensate for this shortfall by moving more water from Cumbria and North Wales using our integrated pipe network.
"Overall, the situation is much improved and the ban is no longer required to safeguard essential supplies.
"Although the ban is over, some of our reservoirs are still very low, so it's important that people continue to do what they can to save water around the home and garden."
The ban restricted the use of hosepipes or sprinklers for watering private gardens and washing private cars - but businesses were not affected.
United Utilities said its customers saved about of three billion litres (880 million gallons) of water during the ban.
Related Internet Links
The BBC is not responsible for the content of external sites.